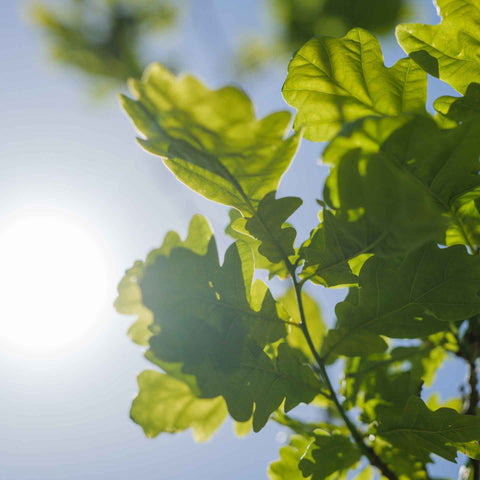 €425
Kiln Dried Oak Firewood - Single Deck® Pallet
In high demand
Defined for its heritage and reliability, Oak as firewood has been a source of many great stories from the past and has proved to be a reliable source of heat for past and present generations.
I have never seen wood this dry! These logs are stored away & hopefully will bring us to Christmas and beyond. The logs burn bright & last well in the stove. I would definitely buy a pallet of oak again.
— Stephen (customer)
Checking local availability
Specs & Instructions
Described also as the slowest burning logs in our kiln-dried selection, the Oak logs have been kiln-dried below 18% moisture and hand-packed in the Single Deck® crate, which has since become synonymous with excellence, value and premium quality.
Kiln-dried Oak logs are highly energy-efficient smokeless fuel and can produce an average heat output of 4.80 kWh/kg. The moisture content for our kiln-dried wood ranges between 10 to 15% and is well under the Government recommended level of 25%. The ash content or residue left is less than 1%.
The Oak logs can be used in all types of solid fuel appliances, including traditional fireplaces and fire pits and are energy-efficient smokeless fuel. For quick and easy lighting, we recommend you use kindling & 1pc of Waxies.
Single Deck is our regular-size crate and can weigh up to 400kg. The logs are a consistent length of 25cm. As this is a natural product, the diameter can vary from 7 - 15cm. The external dimensions of the single-deck crate are (H)0.8m x (W)1.15m x (D)1.05m. Interestingly, the single deck equals the volume of 4 x City Bags.
Always store your firewood in dry storage. To maintain the quality of the logs and ensure the firewood continues to light and burn efficiently throughout the crate, we recommend storing the Single Deck® in a dry and well-ventilated location only.
Responsible Forestry
These Oak logs are sourced from European sustainably managed forests.
EPA Registered Fuel
Ready to Burn
Woodsure Ready To Burn certified. Company ID: WS5550.
BS EN ISO 17225-3:2021 Certified.
Customer Reviews
Write a Review
Ask a Question
12/11/2023
David C.

Ireland
I recommend this product
Happy overall, but some of the logs are a bit on the big size. Thank you, regards David.
04/11/2023
Alice L.

Ireland
I recommend this product
Excellent
Delivery of pallet to address in Mayo was very efficiently handled and our instructions were followed to the letter. However I initially found the online chat facility difficult to follow with confusing messages shuttling back and forth from email to website. Much better when I found a phone number !
25/10/2023
Susan H.

Ireland
I recommend this product
Very Satisfactory!
We will definitely buy our wood in future from this company. The delivery arrived as advised and the driver was extremely helpful. The wood is excellent, we ordered oak and it is dry, clean and burns very well - gives off lots of heat in our multi-fueld stove in our lounge. Our cats, dog and ourselves love the warmth!
24/10/2023
Joei O.

Ireland
I recommend this product
Very happy
This is our second purchase from ecofuel. Very happy with the service and quality. The only issue I have is that some of the wood is bigger than stated and as we have the smallest stove in Ireland it's an issue.
EcoFamily Rewards
Earn reward points on your purchases online or in-store.
The Single Deck® pallet is available for home delivery nationwide.
Pick up
Order online and collect from your nearest Ware+Store®
You can pick up your online order free of charge at the nearest Ware+Store® location during the opening hours. A pick-up is an excellent option if you live nearby and for a smaller order, that can easily fit into the boot of your car.
We offer Free 30 Days Returns & Money Back Guarantee on all your purchases made online or at Ware+Store®.
Read our returns policy to learn more.
Explore all the places where you can buy your favourite ECOFUEL™ products and find our partners who use our products to fuel their business.

Find us locally.
Commercial Enquiries
We would love to hear from you about your project or business venture.