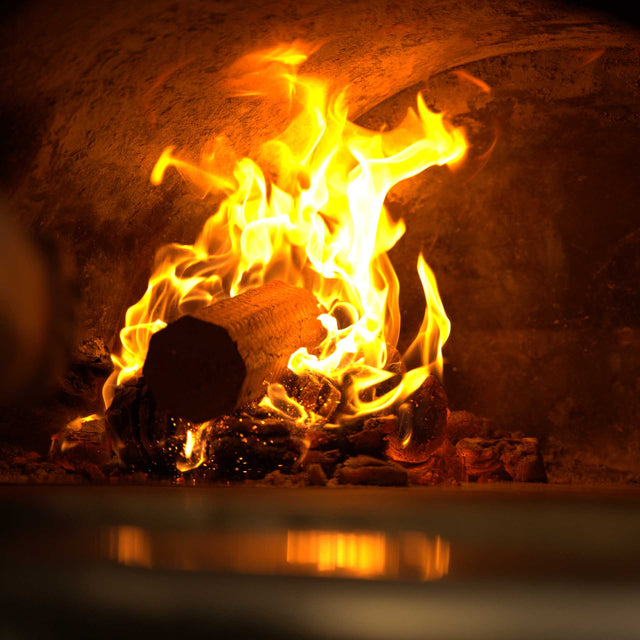 Forno1889® Beechwood Pizza Briquettes
Crafted for professional and domestic pizza ovens
Pickup currently unavailable
Forno1889® marries the sustainability of modern high-performance briquettes with the heritage of traditional Neapolitan pizza making.
As the story goes, on arriving in Naples, Queen Margherita of Savoy & King Umberto I invited Rafaele Esposito, Napoli's most esteemed pizza maker to prepare dinner. Deeming the traditional garlic topping unfit for royalty, Esposito created a pizza topped simply with tomatoes, mozzarella, and basil — the Italian flag's red, white, and green. The year was 1889.
Product
Made from 100% virgin Beechwood, Forno1889® pizza briquettes are our food-grade cooking logs that will reach the required 500-degree Celsius temperature in Neapolitan-style oven whether cooking in a professional setting or at home.

Due to the consistent burning, there has been a particular appeal from professional chefs who need reliable results every single time.
Impact
Forno1889® Beechwood Pizza Briquettes are made of FSC® 100% certified wood.

The Forest Stewardship Council® (FSC®) is a global, not-for-profit organisation dedicated to the promotion of responsible forest management worldwide. FSC defines standards based on agreed principles for responsible forest stewardship supported by environmental, social, and economic stakeholders. To learn more, visit www.fsc.org.

Our FSC® certificate number is SGSCH-COC-140013.

You can also find the FSC® 100% label on the box of Forno1889® below.

Made from 100% Biomass. Contents comply with the Air Pollution Act Regulations. EPA Registration No. F0087–01.

Since they're made from 100% Beechwood, sourced from responsible sources, Forno1889® briquettes are carbon neutral.
Energy
In our most recent DIN EN ISO/IEC 17025:2018 laboratory tests at AH Knight, which often are referred to as Chemical Analysis tests, the Forno1889® briquettes are shown to produce energy output with a gross calorific value of 5.37 kWh/kg.

The moisture content ranges between 5.4 – 6.6%, with the ash content 0.5%.
Use & Utility
By design, Forno1889® briquettes are octagonal in shape, and one can say they are custom-made for Neapolitan-style cooking where the fuel must be burned on the left side of the oven. The high and consistent temperatures will guarantee consistent and reliable results.

This high performance also makes these briquettes suitable for stoves and fire pits, where a great flame and high heat output are important.
Packaging
Each 15kg box measures 30cm x 24cm x 24cm and contains 9 octagonal briquettes, each measuring 24cm long and 8cm in diameter.
Storage
Packaged in a recyclable cardboard box, Forno1889® Briquettes are easy to handle and store. The box requires minimal but weatherproof storage for safe storage. Direct contact with water may result in the total loss of the briquettes or reduced or poor performance.
Approved Fuel
Contents comply with the Air Pollution Act Regulations. Registration F0087-01.
For more information, visit Gov.ie
Earn Rewards
Give €20. Get €20.
Can we send you a €20 discount?
Join EcoFamily to use your referral link to introduce a friend to ECOFUEL, and we'll give them a €20 discount they can use right away.
If they purchase within 30 days, we'll give you a €20 discount too. 
If you are already an EcoFamily member, claim your personal referral link.
The best part, invite as many friends as you like, and we'll give you €20 every time.
Home Delivery
Forno1889® is available for home delivery nationwide.
Learn more about our delivery service by visiting the About Delivery page.
Pick Up
You can pick up your online order free of charge at the nearest Ware+Store® location during the opening hours. A pick-up is an excellent option if you live nearby and for a smaller order, that can easily fit into the boot of your car.
Free 30 Days Returns
We offer Free 30 Days Returns & Money Back Guarantee on all your purchases made online or at Ware+Store®.
To learn more, visit our returns policy.
Find Us Locally
Check out all the places where you can buy your favourite ECOFUEL™ products and find our partners using our products in their commercial operations.

Find us locally.
Are you interested in wholesale?
Contact our commercial team to learn more about how we can help.
Learn More