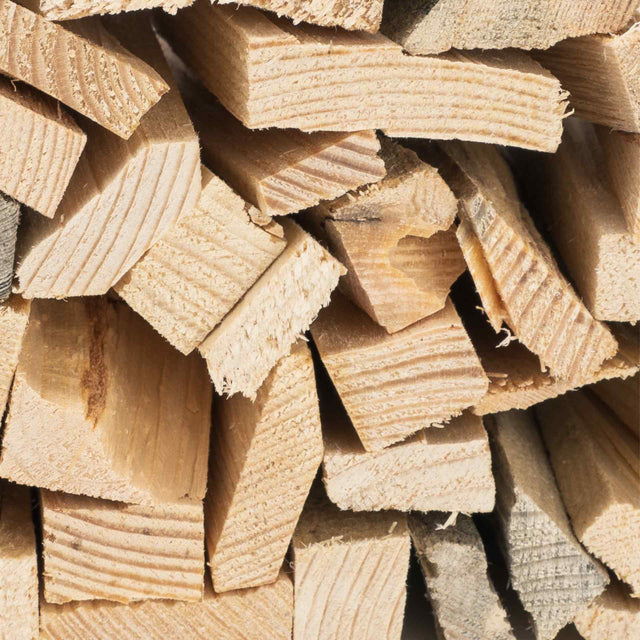 ECOFUEL™ Kiln Dried Kindling
Ultra dry. Lights quickly. Zero plastic.
Pickup currently unavailable
" Great kindling to start fires. There's plenty in the box, and I find one box is more than enough to use alongside a City Bag, as you don't need too many to get the fire lit, " - said Emmanuel. 
Product
Made from Pine and Spruce wood, which contains a natural resin, ECOFUEL Kindling will light easily to get your fire going straight away.
Impact
We strive for sustainability and transparency, and this product is FSC Certified, meaning we, as FSC certified company hold an entire chain of custody. Therefore, we can trace the product back to the origin of the forests.

Our FSC license code is FSC-C178321.
Energy
Use & Utility
Packaging
Storage
Approved Fuel
Contents comply with the Air Pollution Act Regulations. Registration F0087-01.
For more information, visit Gov.ie
Earn Rewards
Give €20. Get €20.
Can we send you a €20 discount?
Join EcoFamily to use your referral link to introduce a friend to ECOFUEL, and we'll give them a €20 discount they can use right away.
If they purchase within 30 days, we'll give you a €20 discount too. 
If you are already an EcoFamily member, claim your personal referral link.
The best part, invite as many friends as you like, and we'll give you €20 every time.
Home Delivery
Learn more about our delivery service by visiting the About Delivery page.
Pick Up
You can pick up your online order free of charge at the nearest Ware+Store® location during the opening hours. A pick-up is an excellent option if you live nearby and for a smaller order, that can easily fit into the boot of your car.
Free 30 Days Returns
We offer Free 30 Days Returns & Money Back Guarantee on all your purchases made online or at Ware+Store®.
To learn more, visit our returns policy.
Find Us Locally
Check out all the places where you can buy your favourite ECOFUEL™ products and find our partners using our products in their commercial operations.

Find us locally.
Are you interested in wholesale?
Contact our commercial team to learn more about how we can help.
Learn More