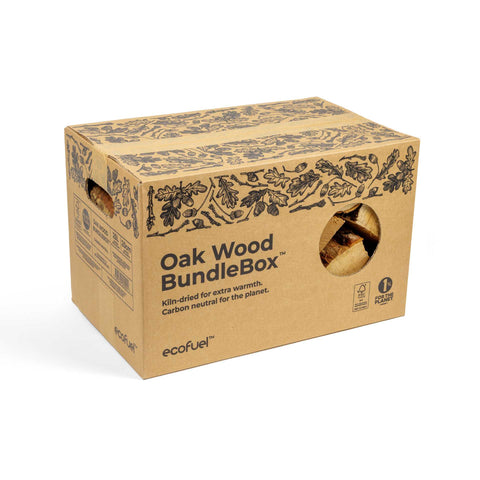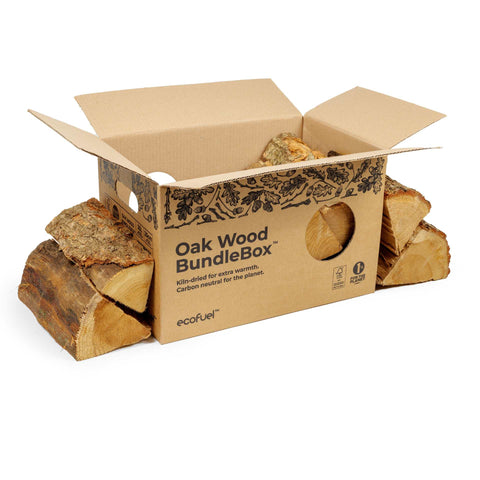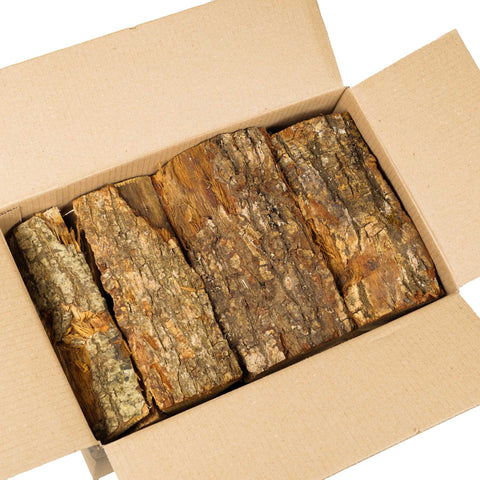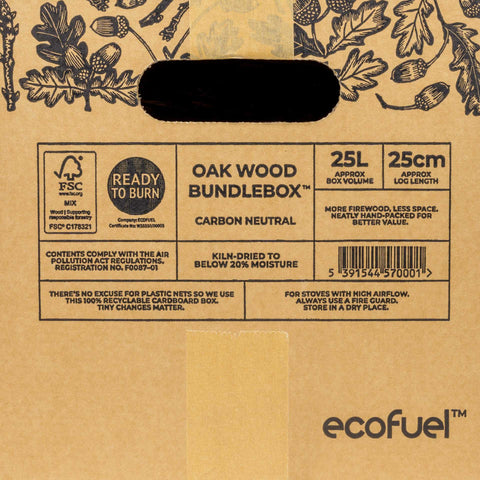 From €12
ECOFUEL™ Oak Wood BundleBox™
Kiln-dried for extra warmth
We took Oak, our warmest-burning kiln-dried logs, and hand-packed them into a brand new box, so now it's even more convenient to carry your logs to your fireplace or stove.
No mess, no plastic packaging and everything else our customers know and love - low ash, kiln-dried for extra warmth, and FSC certified so you know it's sustainably sourced.
Good heat performance. Less ash than coal. Good to know that I am making a small contribution to improvements in air quality by switching from coal.
— Kevin N (customer)
Checking local availability
Specs & Instructions
For wood-burning stoves and inserts. Always use a fireguard for open fires.
Packaging
100% cardboard packaging, 25L box, hand-packed.
Store in a dry place
Responsible Forestry
This product is made of FSC® certified and other controlled materials.
When you purchase FSC-labelled products, you're helping forests and the communities who rely on them. This support goes beyond financial support and helps the natural habitats to thrive and protects our forest ecosystems.
The Forest Stewardship Council® (FSC®) is a global, non-profit organisation promoting responsible forest management worldwide. FSC defines standards based on agreed principles for responsible forest stewardship supported by environmental, social, and economic stakeholders. To learn more, visit www.fsc.org.
Our FSC® certificate number is SGSCH-COC-140013.
You can also find the FSC® Mix label on the packaging.
EPA Registered Fuel
Ready to Burn
Woodsure Ready To Burn certified. Company ID: WS5550.
BS EN ISO 17225-3:2021 Certified.
Customer Reviews
Write a Review
Ask a Question
06/12/2023
David W.

Ireland
I recommend this product
Oak Logs - Great for a stove
I bought the Oak bundle box to try out in our stove. Using them with eco briquettes (or similar type briquettes) and they give a nice, long burn. I'll be back for more soon.
06/12/2023
Mary M.

Ireland
I recommend this product
The box
Timber quality very good Compact quantity
05/12/2023
Debbie L.

Ireland
04/12/2023
Rachel V.

Ireland
I recommend this product
Oak wood bundle box
Really handy box but considering we have our stove on daily atm, it's better value for us to stick with our usual City Bag, Oak/Birch order. Same great quality logs as in the bigger bag and ideal for folks who have very little storage space.
EcoFamily Rewards
Earn reward points on your purchases online or in-store.
We offer a nationwide delivery service for all our products. For orders with fewer boxes, we have our concierge trolley service, The Final 40FT® available.
Pick up
Order online and collect from your nearest Ware+Store®
You can pick up your online order free of charge at the nearest Ware+Store® location during the opening hours. A pick-up is an excellent option if you live nearby and for a smaller order, that can easily fit into the boot of your car.
We offer Free 30 Days Returns & Money Back Guarantee on all your purchases made online or at Ware+Store®.
Read our returns policy to learn more.
Explore all the places where you can buy your favourite ECOFUEL™ products and find our partners who use our products to fuel their business.

Find us locally.
Commercial Enquiries
We would love to hear from you about your project or business venture.