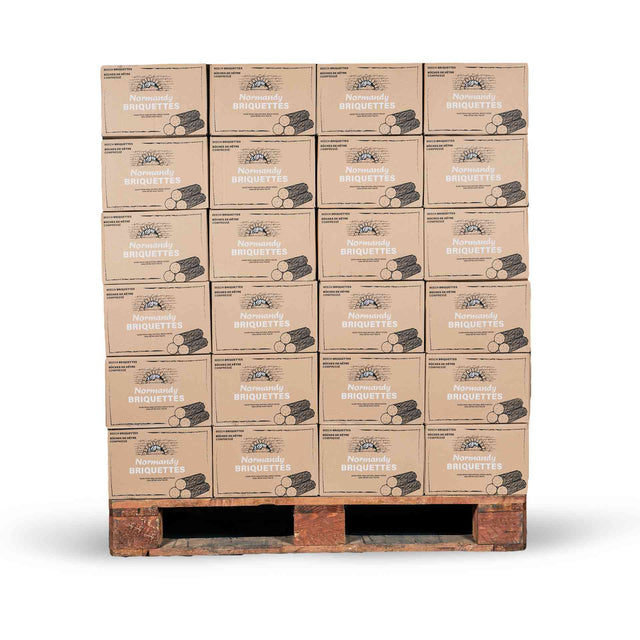 Normandy Beech Wood Briquettes. 864kg Pallet
Designed For Wood-Fired Ovens
Pickup currently unavailable
" I've been using the briquettes for the last 2 years from Ecofuel. Their product is unbelievably good. Delivery always on time and very quick response. '' - 
Dan, Chef at Fade Street Social, Dublin. 
Product
Each of our products is natural, but the octagonal-shaped Normandy Briquettes are explicitly designed with food safety and cooking in mind. Made of 100% virgin Beechwood sawings, the sawdust in the briquette does not include recycled wood. The chefs swear by them because they get to and stay at the high temperatures and do not roll in the oven or leave a mess behind. We are not pizza chefs, but we know how important the fuel can be for creating that perfect Pizza Neapolitan experience.
Impact
From recyclable packaging to raw materials in the manufacturing process, the Normandy Briquettes are made from wood shavings that are processed on a single-site sawmill and can be traced back to the forests of origin.

This product is PEFC certified.

PEFC stands for "Programme for the Endorsement of Forest Certification" and is a global non-profit organization that works on promoting transparency for users and purchasers of wood-based products and can be assured that they are buying wood from sustainably managed forests.
Energy
The energy output produced from Normandy Briquettes is 4.89 kWh/kg.
The moisture content ranges between 6 - 8%.
The ash content at 550°C is 0.5%.
Use & Utility
The Normandy Briquettes are designed and made for use in commercial wood-fired ovens, including traditional Napoletian pizza ovens. This said, Normandy, will also work in domestic solid fuel appliances, fireplaces and fire pits.

You can light the briquette by using nothing but a few kindling sticks and 1pc of our WaxiSticks natural firelighters.
Packaging
This is our 72 boxes pallet or a total of 864kg pallet.

There is a total of 6 x beech briquettes in a 12kg box, and they're easy to store at 37cm x 27cm x 19.5cm. The briquettes are 26cm long and 10cm in diameter. The octagonal shape ensures the briquettes don't roll when in use, making it easy to work with wood-fired ovens.
Storage
Normandy Briquettes are easy to handle and store and require a weatherproof and dry environment for safe storage. Any direct contact with water or high humidity for a long extended period will result in the loss or reduced output of the product.

As a result of improper storage, the Normandy Briquettes may expand and lose their density, resulting in a faster burning rate than average.
Approved Fuel
Contents comply with the Air Pollution Act Regulations. Registration F0087-01.
For more information, visit Gov.ie
Earn Rewards
Give €20. Get €20.
Can we send you a €20 discount?
Join EcoFamily to use your referral link to introduce a friend to ECOFUEL, and we'll give them a €20 discount they can use right away.
If they purchase within 30 days, we'll give you a €20 discount too. 
If you are already an EcoFamily member, claim your personal referral link.
The best part, invite as many friends as you like, and we'll give you €20 every time.
Home Delivery
Our delivery service covers all of Ireland, and for our commercial clients, we can organize a delivery schedule that works for single or multiple locations.
Learn more about our delivery service by visiting the About Delivery page.
Pick Up
You can pick up your online order free of charge at the nearest Ware+Store® location during the opening hours. A pick-up is an excellent option if you live nearby and for a smaller order, that can easily fit into the boot of your car.
Free 30 Days Returns
We offer Free 30 Days Returns & Money Back Guarantee on all your purchases made online or at Ware+Store®.
To learn more, visit our returns policy.
Find Us Locally
Check out all the places where you can buy your favourite ECOFUEL™ products and find our partners using our products in their commercial operations.

Find us locally.
Are you interested in wholesale?
Contact our commercial team to learn more about how we can help.
Learn More