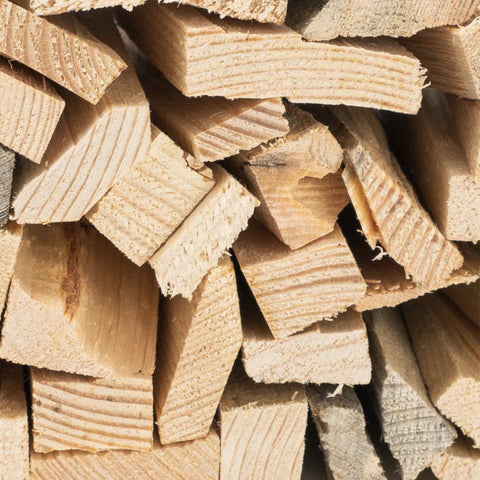 From €6.50
ECOFUEL™ Kiln Dried Kindling
Ultra dry. Zero plastic.
Made from Pine and Spruce wood, which contains a natural resin, ECOFUEL Kindling will light easily to get your fire going straight away.
Great kindling to start fires. There's plenty in the box, and I find one box is more than enough to use alongside a City Bag, as you don't need too many to get the fire lit.
— Emmanuel (customer)
Checking local availability
Specs & Instructions
Responsible Forestry
This product is made of FSC® certified and other controlled materials.
When you purchase FSC-labelled products, you're helping forests and the communities who rely on them. This support goes beyond financial support and helps the natural habitats to thrive and protects our forest ecosystems.
The Forest Stewardship Council® (FSC®) is a global, non-profit organisation promoting responsible forest management worldwide. FSC defines standards based on agreed principles for responsible forest stewardship supported by environmental, social, and economic stakeholders. To learn more, visit www.fsc.org.
Our FSC® certificate number is SGSCH-COC-140013.
You can also find the FSC® Mix label on the packaging.
EPA Registered Fuel
Ready to Burn
Woodsure Ready To Burn certified. Company ID: WS5550.
BS EN ISO 17225-3:2021 Certified.
Customer Reviews
Write a Review
Ask a Question
06/12/2023
Mick F.

Ireland
I recommend this product
Excellent experience and brilliant service
Fabulous service
06/12/2023
Rita A.

Ireland
I recommend this product
Fantastic Service
Delivery guy is a gentleman
05/12/2023
Tanya H.

Ireland
I recommend this product
Very happy
I started ordering from ECOFUEL last year and never left… always happy with their products and their delivery man is a gent.
28/11/2023
Bernadette M.

Ireland
I recommend this product
Brilliant!
EcoFuel's friendly approach together with their streamlined ordering and delivery service is second yo none.
EcoFamily Rewards
Earn reward points on your purchases online or in-store.
We offer a nationwide delivery service for all our products. For orders with fewer boxes, we have our concierge trolley service, The Final 40FT® available.
Pick up
Order online and collect from your nearest Ware+Store®
You can pick up your online order free of charge at the nearest Ware+Store® location during the opening hours. A pick-up is an excellent option if you live nearby and for a smaller order, that can easily fit into the boot of your car.
We offer Free 30 Days Returns & Money Back Guarantee on all your purchases made online or at Ware+Store®.
Read our returns policy to learn more.
Explore all the places where you can buy your favourite ECOFUEL™ products and find our partners who use our products to fuel their business.

Find us locally.
Commercial Enquiries
We would love to hear from you about your project or business venture.