In the EcoFuel family, we have a handful of key values and beliefs that we go by in both our personal and professional lives. We believe it's nice to be nice and help others when you can. We believe in being genuine and transparent with our customers. And we believe that it is everybody's responsibility to be more environmentally aware and to make sustainable choices whether at home or in the workplace.
In an effort to put our sustainability where our mouths are we've made a few small changes to make an impactful change.
Our Managing Director Janis recently purchased an electric scooter for his trips to and from the office. This means one less car on the roads and a little less CO2 in the air.
We've also worked behind the scenes with our suppliers to reduce plastic from our products before they hit the shelves. Our PiniKay Logs were originally supposed to be wrapped in unnecessary plastic, but we pushed against this and as a result, we have avoided 2,270m2 of single-use plastic going out to our customers, and that is something we are really proud of.
Our latest project has us looking at our current products and practices and wondering how we can change what's in front of us to make us more environmentally friendly. The simple answer: Cut the plastic.
Our EcoBriquette range has always been wrapped in plastic, and for a long time, we accepted it because that was how it was. Until we decided that wasn't how we wanted to look at things anymore. We started the conversation with the EcoBriquette manufacturers and sourced a new packaging supplier and we are now delighted to say: We are replacing all plastic packaging for our EcoBriquettes with custom-designed, FSC sourced, and entirely recyclable cardboard packaging.
As was the case with so many businesses this year we were slowed down by coronavirus. So we rallied and did what we could from home, which meant Zoom.
So
Much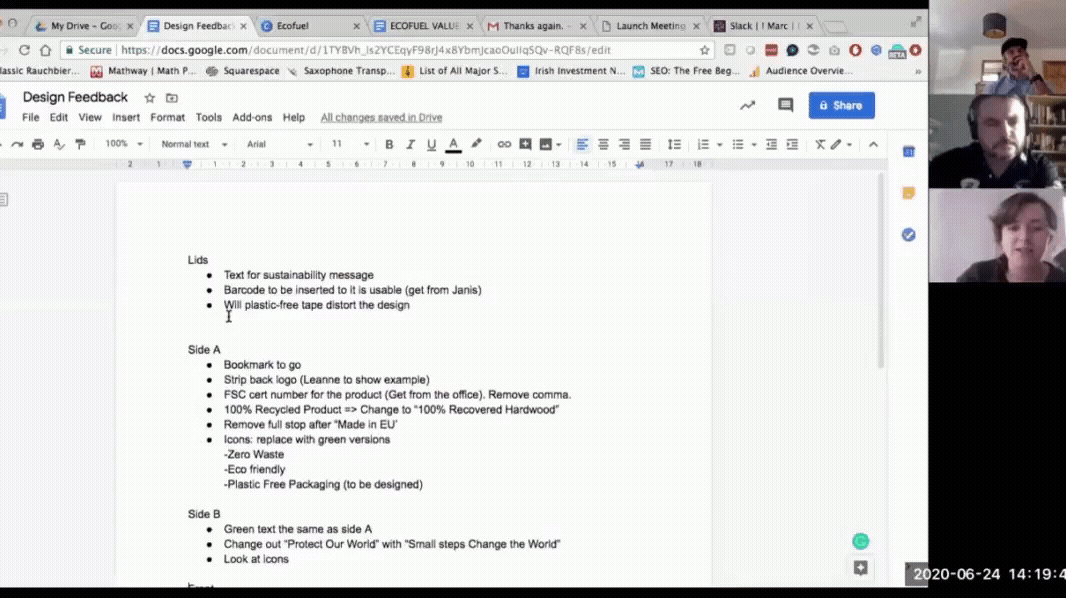 Zoom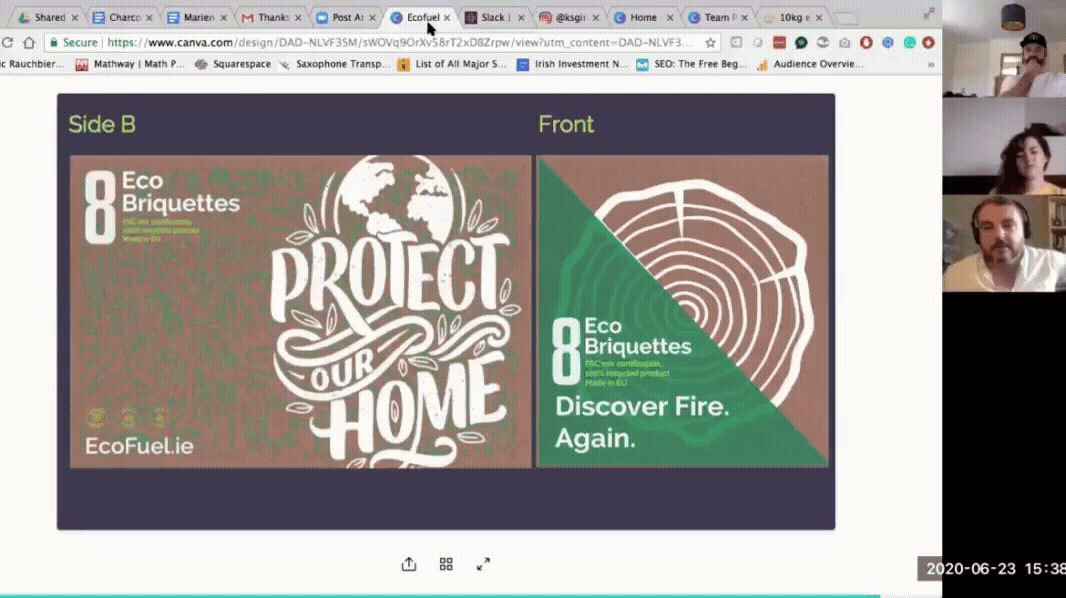 And so many emails

We needed a graphic designer so we worked with  Alan from Outliers Designs, Alan got us immediately and understood exactly what we wanted the packaging to say about our brand.
We wanted a design that felt organic, like our products. Wasn't crammed with confusing lingo, because we like to keep it simple and clear for our customers. Showed what we're about and promotes ethical and sustainable sourcing of materials and products. After a bit of back and forth, Alan pulled all this and more together and we couldn't be happier with what he came up with.
This packaging will hold 60% more logs than it's plastic-wrapped predecessor, will be sourced from FSC managed forests and will be entirely recyclable after use. And it doesn't hurt that it looks really cool. But most importantly, by making this change we estimate that next season we will be preventing the circulation of 9,095m2 worth of single-use plastics across Ireland, and if that's not a good couple of months work then I don't know what is!
This project got us thinking; what else can we change?
As you may know, this Autumn we are opening our new Ware+Store(™) in Dublin. We're working with interior designer Dana from Black Fox Designs to bring our sustainability values to life through the design of our new store.
We can't say much right now but expect some greenery, repurposed single and double stack pallets, and if we're lucky maybe a little coffee station...
Watch this space for updates!